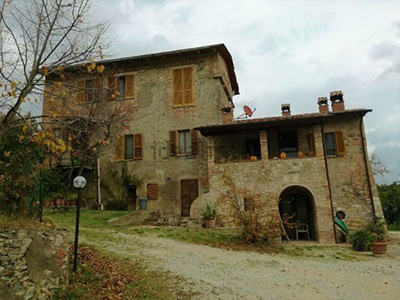 It was nerve-racking...
The whole situation almost surreal.
For a long time we planned to do a viewing tour through Umbria to find the perfect place for our ecotourism project.
When it was time to go, Italy started to suffer of the COVID-19 outbreak. At that time (beginning of March 2020), only some parts of North Italy were closed, Umbria was free of (known) cases. So we decided to go. 
And we are very happy we did...
One day after we returned home, they put Italy under full lockdown and we would have never found our dream house.
But - we made it. We found it. We viewed an endless number of houses and we never "felt it". With this house - we parked our car, looked at each other and we knew - this is it. Without seeing anything of it. Just being in front of it.
The house has a lovely olive grove for our ecotourism project. And space enough to work and live for ourselves.
The view is breathtaking - you overlook many miles of green Umbrian valley, medieval castles and the "skyline" of Perugia.
It is very close to the Lake Trasimeno.


And today - the sellers agreed to our offer!
Now we just have to wait that the borders will be open again, so we can continue with our project! But beginning of 2021 it should be really "ours" and we will start with the construction of our (no, your) glamping accommodation.