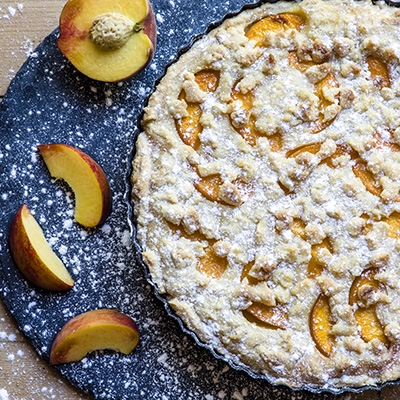 THIS IS A RECIPE FROM THE CATEGORY "VEGAN BASICS". 
"vegan basics" will give away some tricks how to substitute dairy or other non plant-based ingredients to be able to cook almost all traditional dishes plant-based.
------------------------------------
Use it on top of a sponge cake, as a filling for brioche or bake a yummy custard cake with it.
All custard fans will be happy to know that this vegan version tastes 1:1 like the dairy option.
You need silken tofu for the custard – there is no substitution for it to get the real custard feeling.
Don't be tempted to use a different tofu to silken tofu, it will never taste like custard otherwise, it has to be silken tofu.
Usually you find silken tofu in the Asian department of your supermarket (not in the fridge with the other tofu). Otherwise try to get it online.
Depending on the purpose you need the custard, you might want to use less corn starch. This recipe is great for baking a cake, you don't want to have the custard too liquid in a cake. But for a creamier custard use less corn starch. 
This recipe will be enough custard for one cake. Adjust the ingredients for your purpose.
=>> recipes where we used the vegan custard 
---
Recipe Card doesn't show? Try to refresh the site by clicking here:  
---