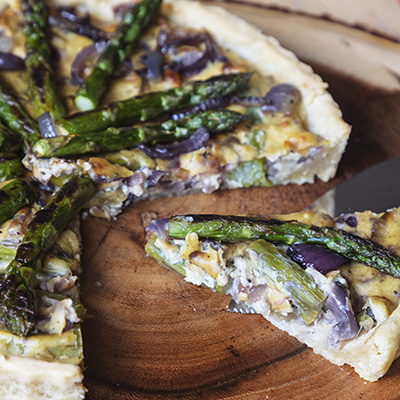 THIS IS A RECIPE FROM THE CATEGORY "VEGAN BASICS". 
"vegan basics" will give away some tricks how to substitute dairy or other non plant-based ingredients to be able to cook almost all traditional dishes plant-based.
------------------------------------
A quiche filling, if you liked to eat it before you turned vegan, has to be fluffy and eggy.
Missing it since you eat vegan? No problem, this is the perfect quiche filling and will hardly give away that it is all plant-based.
You can use the filling for any quiche. 
French Onion Quiche, Asparagus Quiche, Tomato Quiche etc etc.
The secret what makes the quiche filling taste so real are two ingredients:

1. Kala Namak; also known as Himalayan black salt. It's a secret ingredient – especially in the vegan cuisine – because it adds an eggy taste and smell 
2. Silken Tofu; don't mix it up with firm tofu. It won't taste the same. Silken Tofu can mainly be found in the Asian compartment of your supermarket (or online). Usually it is not chilled like the other tofu.
=>> recipes where we used the quiche filling 
---
Recipe Card doesn't show? Try to refresh the site by clicking here:  
---